All of our kids classes are offered in a progressive 6 or 8 week series
We have found that the kids thrive in yoga with consistency of their practice and getting to know the same group of kids over an extended period of time. Each of these sessions meets once a week for an hour, but not all yoga classes will last an hour. The younger ages will have "creative time" at the end of their yoga sessions.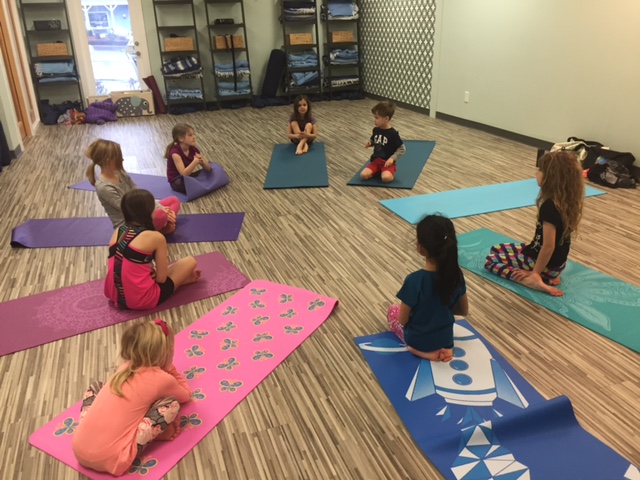 TBD
E-Mail info@korsiyoga.com to get on our kids mailing list and to find out more information.
Yoga mats and materials are provided.
Registration is required.
*Maximum of 20 students per class.
Series Pricing
Cost for each 6 week series $84; Siblings $74
Cost for each 8 week series $112; Siblings $102
Drop-In $15
Using yoga postures to build inner and outer strength and flexibility are the main focus of this class. Also included are partner and group poses and playful yoga games. Experience emotional balance through the physical and mental benefits of yoga by practicing breathing exercises, flowing sequences, balancing poses and deep relaxation while building a healthy relationship with your body. Positive self-awareness and esteem are encouraged. Class is 1 hour.
Instructor: Janelle or Rose Mary
Kids Yoga: Ages 5 - 11
tbd
This is a 8 week series.
Yoga mats and materials are provided.
Registration is required.
*Maximum of 20 students per class.
Series Pricing
Cost for each 6 week series $112; Siblings $102
Drop-In $15
This playful class encourages self-expression as well as building social skills. Children will strengthen their bodies as they learn how to focus through breathing and relaxation techniques. Kids sing, draw and play yoga in this energy releasing class.
Instructor:
Littles Yoga: Ages 3 - 6 Years
TBD
This class includes all of the yoga fun. Group poses are emphasized. Class is 35 minutes. The remainder of the class is supervised creative time for the kids, which includes music and art.
Instructor:
KIDS YOGA BIRTHDAY PARTIES AVAILABLE TOO!
1.5 hrs at our beautiful yoga studio. A 45 minute special party yoga class, plus 45 minutes for cake, gifts and/or an add-on project (ask us for lots of suggestions).

Set up, party entertainment and management, and clean up so that you can enjoy the party along with your child!

Exclusive use of the studio for the duration of the party, use of all mats, props and music.

Access to the studio 20 minutes prior to the scheduled party time for decorating if you wish. For additional time, please discuss with party coordinator.

Tables & chairs, birthday candles, matches and a serving knife are provided for your convenience.

Printable birthday or special occasion invites also available!
**Parents supply food/cake, drinks and paper goods.
Party Pricing
Classic Party for ages 4 & up: $175 for up to 12 children, $8 each additional child.
Important Notes: A $50 non-refundable deposit will be required to officially reserve your party date/time. At least 5 days in advance of party date, the Party Coordinator will request the final number children attending. You will be responsible for the number reserved, not the number who attend.